Sometimes (okay, let's be honest: oftentimes), the best gifts are those that we give ourselves. It's okay to be a bit selfish—especially during the Christmas holidays.
It's that time of year where everyone is shopping, shopping, shopping! There are thousands of websites putting out holiday gift lists, and I'm sorry, but here I am adding to all that noise. The holidays can be so damn stressful. Trust me, I know.
I've spent the past few holidays both home and abroad, with my family, and alone. But there's one thing that's universal about the holiday season no matter how, where, or when you celebrate. As the days turn darker, the weather gets colder, it's important to treat yourself (treat yo' self). You can't stay stuck inside worrying about all the failures of the year, the money you're going to waste on stressful trips home to see family, the pressure of credit card bills.
You'll find gift lists online suggesting things to buy for others, but that's not what I'm here for. It's the holidays dammit, and while that means you've got to put in the effort to see (or simply, Skype) your family, fuck 'em. Do something you want to do, too. It's as much your holiday as anyone else's.
Here it is: my first ever gift list of things you should buy for yourself. Because if everyone is already going to be miserable around Christmas, you might as well find a way to enjoy it…
The list of self-satisfying gifts!
10 Selfish Gifts to Buy For Yourself this Christmas
• • •
1. Cookbooks
I've written heaps already about the joy of cooking. It's one of my favorite hobbies and just about the only time I'm able to truly disconnect from the internet—even if for only an hour or two. So, as the end of the year approaches and suddenly everyone starts to hibernate for the winter, take this time to stock up on some new cookbooks.
Bonus: if you feel like you should give something back this holiday, use your new cookbook to cook up a new meal for your friends and family! Christmas cookies are great and all, but nothing says, "I'm better than you" than an authentic Italian cookie recipe that knocks that chocolate chip out of the jar.
Recommended: Buy my friend's book, Heart Rome. The author, Maria Pasquale, is probably the most passionate chef I know and she's spent years living (and eating) in Rome to create this ultimate love letter and food guide to Italian (and specifically, Roman) cuisine. I'm working my way through the book of recipes and OMG it's delicious. If you can't be in Rome right now, this is the next best thing.
Read more about Heart Rome recipes here or find where to buy here
• • •
2. Stocks
We've all seen the news. The economy is booming!, or so they say. You might be crippled with debt and have no idea how to contribute to your ROTH-IRA this year, but don't worry: there's an easy way to make (and, disclosure: potentially lose, money): the stock market! Take your gift money for the year and choose to invest it in some simple stocks with the hopes that you can get a return on it next year. Bonus: if you make it big, you can buy bigger gifts for your friends and family next year.
Recommended: Download the RobinHood app (USA only) with my link here. It's a free app meant to help beginners get into the stock market, and with my special link you'll get a FREE stock at random (you have to register and start the account to get the free stock).
I also get a free stock, so it's a win-win and it's kind of like you're buying me a gift ;) and once you're signed up, beg your friends and family to sign up too for even more free stocks. We are the new Wall Street, buddies!
Moms love to buy socks and underwear for their children each holiday. I'm not sure why, but it's just how it is. And nine times out of 10, it'll be fine, but it's not going to be that special. Instead of relying on your mom to buy your underwear this year, buy it yourself.
Get that sexy thong, those briefs, that jockstrap you saw. Anyone who gifts lingerie to a lover is basically buying it for themselves anyways, so skip the middle man and just buy it for yourself. Bonus: you can still use it to seduce your lovers.
Recommended: This one's a personal choice. I'm partial to jockstraps and skimpy briefs from the likes of AussieBum and Addicted—or the sexy crop-tops and briefs from Marek+Richard. Don't forget to get swimsuits too; climate change is NOT a myth.
• • •
4. A day at the spa
This one's obvious and probably the most iconic way to "treat yo' self." Book a day at the spa to escape whatever hell your family has planned. Get that facial, book a Swedish massage; you're allowed a luxury every now and then. Bonus: bring a friend if you're afraid you might get bored. Or if you just want to be nice. And it's a scientific fact (probably), spending some time taking care of your body makes you happier and healthier.
Recommended: Again, a personal choice and location-dependent. Most luxury hotels have day spas and while prices will be steep, it's a quick and easy escape from the hum-drum of the holidays. And if you find a spa in a hotel near a shopping mall, use the family shopping trip as an excuse. Some spas have special offers for first-timers, so check that too.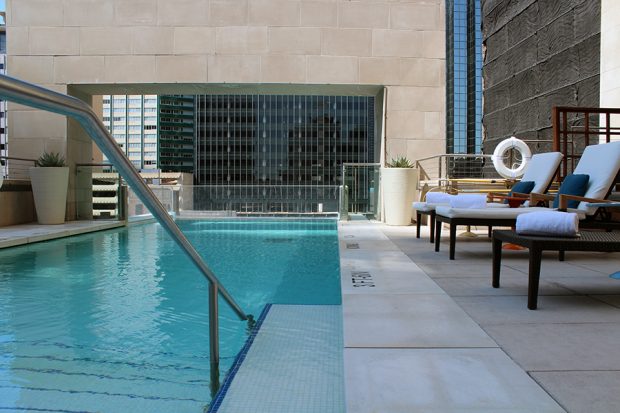 • • •
5. Craft liquors
The newest of the hipster culinary crazes, craft liquors are delicious, potent, and not that expensive. Bonus: most likely you can't drink an entire liter of liquor by yourself, so invite over some friends as a special holiday treat. You'll look super cool with your craft liquor and appear to be friendly to those that might have expected gifts. "Here, I made you a cranberry-infused, gin-tonic with a poinsettia flower. Happy holidays." (Don't add poinsettia flowers to your drinks, they're poisonous.)
Recommended: This is the traveler in me, but I always look for craft or local liquors when traveling. My favorite bottle this year came from the Watershed Distillery in Columbus, Ohio. This Bourbon Barrel Gin has a hint of the oak flavor you'd expect, but the gin is semi-sweet and very flavorful.
• • •
6. Rosetta Stone (seriously!)
Are you planning an upcoming trip in the new year? Start preparing early with an online subscription to Rosetta Stone. Besides the top-quality education (I've used it to learn both German and Spanish), it's also a useful tool during the holidays.
First off, it's a great way to ignore your family while at home. Just put on your headphones, open up the app, and exclaim loudly to your family, "I AM STUDYING" and then you can be left alone for hours while you switch between studying on Rosetta Stone and discreetly watching porn on Tumblr. Bonus: with your newfound language skills, maybe you'll find a foreign lover, or better yet, you just might be able to finally communicate with your extended family/foreign boyfriend.
Recommended: Rosetta Stone subscriptions currently are on sale and just $6/month for 24-month subscriptions. It works both on your computer and through an app (Apple/Android). Lessons can be used offline so it's not data-intensive and it's a fun and easy way to learn something new.
• • •
7. Video games
I've had a complicated relationship with video games over the years, but lately, I'm all in. Forget the idea of a winter boyfriend and just plan to hole up in your apartment this winter with frozen pizzas, CGI avatars, and a thousand friends from the internet. They are so many games available online now and their designs literally take you to other realities and worlds; it's pretty much the cheapest way to travel tbh.
Bonus: while you might expect video games to be solitary endeavors, they're actually a lot of fun to play with friends. If you're not into the computer aspect, though, go old-school and pick up some board games. Cards Against Humanity and Apples to Apples are classic holiday games, sure to rile up your friends and family.
Recommended: I'm currently addicted to building houses in The Sims and having entire towns of gay guys in super stylish homes, but I've also been playing a lot of Civilization V just to remind me of my youth. Buy your video games through Steam for better deals and easier access, and get your old-school board games in the shopping mall or on Amazon.
• • •
8. Sweets and chocolates
You have another eleven months for self-torturing and watching your weight, so relax and give the chocolatiers your money, they deserve it. They work hard, you know. Remember the story that chocolate was a currency before? So much for bitcoin, right? Chocolate boxes are often themed—perfect gifts to give to others, but chocolate companies are really missing out on the lucrative business of "sweets for yourself"—not for sharing, not family-friendly!
And if you still feel guilty about it, watch some documentaries about chocolate and buy fair, slave-free products. There you go! Now you're helping others to have a decent life. You're a good person. Bonus: if a friend surprises you at home during the holidays, at least you'll have a box of chocolates you can share if needed.
Recommended: All the chocolates and candies from all the stores. Cookies, tiramisu, cake. Make Marie Antoinette jealous of your Christmas time. (And if you're lucky enough to visit Paris this holiday season, just buy ALL the eclairs.)
• • •
9. Art supplies
It's been a recurring theme in my life. Every time I'm in a museum, I think: "I should've been an artist." Of course, being an artist has never been easy. But if you feel like me and wonder about your artistic capacities, stop with the excuses: buy some oil, canvas, pencils, and a sketch book. Or maybe, for you, it's the ukulele. Maybe it's make-up or fashion that really conquers your heart. Buy it for yourself, think of it as an investment and keep knocking doors; your rich benefactor will appear someday. Bonus: use your new art supplies to create all your own gifts. You'll be saving money
Recommended: This is an anti-recommendation actually. Try to invest in things to create art, but avoid books and scams like: 'How to think like an artist in 2017'. Read biographies, buy supplies and experiment. For writers and sketchers, Moleskine is always there for you. (They're also perfect for travel writing and journaling.)
• • •
10. Show tickets
What better way to escape the drama of Christmas time than leaving the house? Seriously, leave them behind and go watch something in a theater, a cinema, a concert at a jazz club or why not, a sporting event. You can use some of your energy during your shopping spree and buy tickets for the rest of the year (don't worry so much, your stock money is safe, remember). Alternatively, you can also buy subscriptions to music websites like Spotify Premium or new collections for your iTunes library. Bonus: you might be able to find special deals for theater tickets during the holidays, so buy an extra ticket and gift it to a friend. You'll look cultured, get to see what you want to see, and your friend just might buy you dinner in exchange!
Recommended: I prefer live theater and musicals, or the occasional symphony. There are also increasingly more LGBT-themed theaters all over the world, some even offering Christmas shows! If you don't want to go alone, buy me a ticket (and a plane ticket) and I'll go with you anywhere.
• • •
We're all old enough to understand that there is—SPOILER ALERT, KIDS—no Santa, but also: it's important to remember that some of the best gifts you'll probably receive are the ones you give yourself. There's no shame in being a little bit selfish—especially around the holidays!